Obituary for Frank Martin Chapman
Frank Martin Chapman was born in Colorado Springs, CO, on August 15, 1934, to William Bennett Chapman and Margaret Martha Druehl Chapman. His family lived in a home built by his father in the bluffs outside of town above Palmer Park. He grew up enjoying animals and music, but cars were his real love. He tuned his dad's engines with a glass of water sitting on the carburetor until the water stopped vibrating. As a growing boy, Frank hiked around the bluffs, rode bikes and horses with his sister, Barbara, and played high school basketball, saxophone and accordion. He enlisted in the National Guard in January, 1953, was transferred to the US Army Reserve in October 1955, and was honorably discharged in January, 1961. He was fortunate to serve in peacetime.

He met the love of his life, Janice Mae Tatman, on a blind date; and they were wed in Cañon City, CO, on October 12, 1961. They moved to Mountain View, CA, to start their new life together. Frank was employed as a test technician at Philco Ford. Their first child, Gregory Scott ("Gregg"), was born on May 4, 1962. The family bought a home in Sunnyvale, CA, in 1964, and Frank lived there until he moved to Sunrise Senior Living at Holladay in January, 2017. Frank attended night classes at Foothill Junior College, where he focused on electronics. He and Jan welcomed their second child, Cheryl Lynn, on December 11, 1969. After over 52 years of marriage, Jan passed away on April 16, 2014, after many years of illness. Frank was her tender caretaker throughout her illness and has missed her terribly.

Over his career, Frank worked up from Test Technician to Senior Electronic Design Engineer. The fact he achieved this position without a college degree indicates his brilliance and intellect. In his last position at Lifescan, Inc., Frank designed handheld glucometers, which measure blood sugar levels in people with diabetes. Not long before he retired in 1996, he designed a new meter from concept to final product and received a U.S. Patent for his creation.

When their children were young, Frank and Jan took up bowling and joined leagues. The sport became the family's favorite recreation. Frank bowled regularly until the spring of 2016. Although he never bowled a perfect game, he once scored 298 – oh, so close! Frank and Jan devoted many hours to the Foothill Women's Bowling Association, where Jan was an officer and Frank was sort of an unofficial member! He was a true "Frank of all trades" – adept at mechanics, landscaping, carpentry, and pretty much anything else he tried, but his real passion was automobiles. He had two Corvettes he loved (1967 & 1987); and being an electronics engineer, he was "all in" when electric cars started gaining a place in the market. He was the first person in the Bay Area to take delivery of General Motors' all-electric "EV1" and later owned an electric Chevrolet S-10 pickup. He really wanted a Tesla Model S, but couldn't bring himself to write a check for $100,000! He "settled" for a Chevy Volt, which he loved, but criticized for the modern software features. He thought they must have been designed by a young programmer who apparently didn't understand cars.

Frank had a wonderful sense of wit and humor, and although later life turned out differently than what he and Jan had planned, he found ways to laugh and enjoy it. He was a tender and compassionate man, and it was such a joy to watch him serve Jan in her last 20 years. Frank was an extremely caring man and a wonderful example of how a man ought to treat his wife and children and participate in our society.

In January, 2017, Frank moved to Sunrise Senior Living at Holladay in Millcreek, UT, where he lived on the Reminiscence floor and received outstanding care. It didn't take long for him to endear himself to the staff because he was such an adorable man. He passed away peacefully on July 30, 2017, at Sunrise from rapid onset pneumonia. Gregg and Cheryl were blessed to be with him. He is survived by: his son and daughter-in-law, Gregory ("Gregg") and Yancey Chapman of Murray, UT; his daughter, Cheryl Pilkerton of Lompoc, CA; grandchildren – Debbie Waltman (Blake), Jeremiah Pilkerton, Noah Pilkerton, and Micah Pilkerton; great-grandchildren – Daniel Cunningham, Sarah Waltman, and Luke Waltman; and his beautiful legacy. Interment is at Sacramento Valley National Cemetery in Dixon, CA.

Many thanks to: the wonderful staff at Sunrise Senior Living at Holladay; Dr. Gary Holland and the amazing medical and hospice staff members at Comfort WoRx (with special thanks to Christian and Mike); Jordan and the staff at Jenkins-Soffe Funeral Chapels in Murray; McCune Garden Chapel and Milton Carpenter Funeral Home in Vacaville and Dixon, CA, and our many supportive friends and church family!

Dad, thank you for being a dependable, faithful supporter and provider, teacher, father, friend, and dad! We're glad dementia no longer has a hold on you, but we will all miss you terribly!

Farewell parties will be held at Homestead Bowl, 20990 Homestead Road, Cupertino, CA 95014 on August 12th from 1-3PM, and at Sunrise Senior Living at Holladay, 4650 S Highland Dr., Millcreek, on August 19th, at 1PM. In lieu of flowers, please make a donation to the charity of your choice in dad's name.
Previous Events
Gathering of Family & Friends
Homestead Bowl
20990 Homestead Road
Cupertino, CA 95014
Gathering of Family & Friends
Sunrise Senior Living at Holladay
4650 South Highland Drive
Millcreek, UT 84117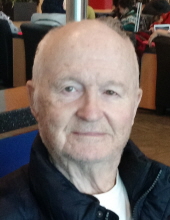 Thank you for sharing your
memory of Frank
Provide comfort by sending fresh
flowers from our local florist.
No thanks, please don't show me this again.